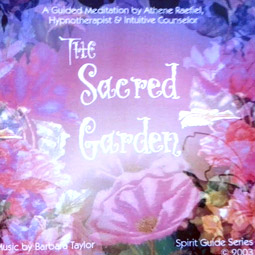 The Sacred Garden – $13.99 (includes S/H)
Track 1: Sacred Garden- 20:39
Great for individuals and classes.
The Sacred Garden is a very special place where your spirit guide awaits you. For twenty years this channeled meditation has been helping people meet with and learn about their guides. The experience is wonderful and full of excitement and love.
The Sacred Garden Sample
Track 2: The Sacred Circle 23:00
Great for individuals and classes.
This channeled meditation is awesome. It guides you to a high plateau where you meet the messengers that attend the four directions of North, East, South and West. Here you will receive your spiritual gifts while creating your own sacred circle.
Listen to a sample from the CD:
The Sacred Garden Sample